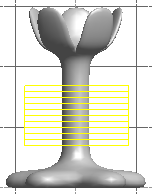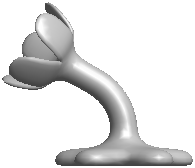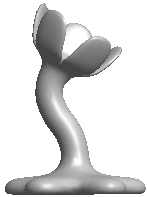 A straight stem is pretty boring. Using a couple of modifiers can really help here. First make sure you're in the front view. Click on the add modifier tool

, then click on the lower part of the stem and drag up about 2/3 of the way. Select bend modifier from the dialog, and a yellow modifier grid appears. It may not be visible if it's narrower than the stem. If so you can either switch to wire frame, or just continue and it should become visible.
Next select the scale non uniform tool

and click and drag the left mouse button to the right until the modifier is slightly wider than the top part of your model. Select both the model and the modifier (you can use the right mouse in point-select mode to add additional objects to the selected list) and click on Build->Modifiers->BindModifier from the menu.

Double click on the modifier grid and a parameter dialog will appear. Enter -60 for the bend angle, clock OK, and see the results! It some parts of your plant are stretched way out of shape, it's probably because the modifier wasn't wide enough to include the whole top part of the plant. Click on Build->Modifiers->EffectModifier and the change is permanent.

Now add another bend modifier starting up the stem a bit, and in the general direction that the stem goes, with a bend angle of about 90 degrees. You've now finished the main part of the eggplant!