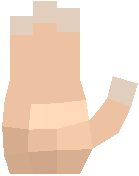 Before you smooth the hand, you need to make some materials for it. Then in the Point Editor you can apply them to different faces. Use the Options->Materials command to show the Material Toolbar if it's not visible.
Double click on the New material to add a new material. This shows the material dialog where you can design your materials.

I made two: one called "skin" with a color of R=241, G=184, B=142, and Specular=0.4 and Roughness=8, and the other "nail" and has a color of R=250, G=225, B=202, Specular=0.3 and Roughness=10.

Select all the faces with the drag-select tool. Click on the "skin" material in the Material Toolbar and then on Apply. Select View->Full to see how it looks. Then select just the 4 fingernails, and apply the "nail" material. Deselect everything and you should see something like at the left.